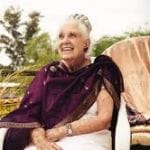 100-Year Old Holistic Superstar
Dr. Gladys McGarey, M.D., M.D.(H)
Recently an article entitled "Living a Holistic Life by the Golden Rule" was published in the Arizona Republic newspaper. I'm proud to say it features my Mom. She has been a frequent speaker at AHP conferences, and I think she exemplifies many of the core concepts of Humanistic Psychology. Let me know what you think!
How could a Golden Rule Moment possibly lead one to be known as the Mother of Holistic Medicine? For Dr. Gladys Taylor McGarey, it began in 1920, when she was born under the auspices of the mighty Himalayas.
In India, then perhaps the poorest country in the world, Gladys' parents, medical missionaries, gave her boundaries, work, love and support. By the time Gladys went on to higher education in her country of nationality, the United States, she was a determined and brilliant young woman. On fire with a passionate desire to help others, she went to America to study Western allopathic medicine, a path very few women of that time had dared to follow. Besides determination and brilliancy to achieve her dream, she had a deeply caring and empathic heart. Gladys was already a doctor in her heart and soul. She had, after all, helped her mother treat everything from lepers to elephants!
According to Dr. Gladys, her entire medical training was in the context of World War II. It was during this time she also met her husband, William McGarey, who had already received his medical degree. The two went on to develop this amazing legacy of healing, the scope of which sweeps across decades of philosophies, practices, continents and organizations.
Read the full article here.