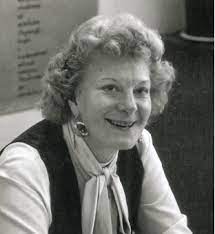 Virginia Satir's Genius: An Overview
online interactive zoom workshop
---
Virginia Satir's Genius: An Overview
Virginia Satir's genius had a profound impact on Humanistic Psychology, and it continues to resonate throughout our field today. She is a past-president of AHP and helped open psychology to viewing all members of each family as an interwoven, interactive system. She is often seen as the Mother of Family Therapy and there are currently two international organizations actively applying and researching her work.
Her wish to be a "Detective about Parents" led her on a lifelong pursuit to understand family systems. She was a teacher and she believed that her work as a therapist could be taught. To that end she developed simple, beautiful models that continue to evolve and grow.This program will take a look at three of Satir's essential models: the Process of Change, the Iceberg, and the Mandala.
Keep an eye out for other upcoming Conversations and Connections from AHP!
Stephen Buckbee has presented workshops about Satir at dozens of international conferences.
Where and When: This online presentation will last one hour on August 28, 2021 at 12 noon US Central Time. There is no need to pre-register. To attend, simply check your time zone and at the right time:
Click Here to Attend!