EXPERIENTIAL DREAMWORK INTENSIVE
March 21, 2020 10:00 am to 4:30 pm
Where: The Human Potential Center, Austin, Texas
---
–> VIDEO OPTION! Join the conversation from home. Just download Zoom.us and join meeting 512-441-8988. <–
You've Never Experienced Dreams Like This
"Understanding the dreams we have at night can make a big difference in the way we feel and perform each day," says Robert McGarey, M.A. "But the way most people interpret dreams is sometimes superficial and may miss out on the profound emotional transformation our dreams can offer."
Dreams tantalize us with intriguing images every night. In this workshop you'll use those images to start resolving emotional conflicts in your life. You'll leave feeling clearer, more self-confident and more empowered. Bring a dream or two and find out how dreams can transform how you feel about yourself and your life. Class size is limited to the first 12 participants, so RSVP now online, or call (512) 441-8988. Continuing Education Units (CEU's) are available for some professionals.
The Human Potential Center is a nonprofit educational organization dedicated to building healthier connections with ourselves, with each other and with the world. It has trained growth-oriented individuals for 34 years on techniques that promote creativity, self-esteem and personal fulfillment. It offers workshops, personal growth sessions, and other exciting opportunities to connect with people who are committed to learning and growing. For more information about the Center, visit HumanPotentialCenter.org or call (512) 441-8988.
Robert McGarey, M.A.
Bob grew up in a family headed by two holistic M.D.'s, so he came by his interest in humanistic psychology honestly. He graduated from Johnston College in 1978 with a Master of Arts in Humanistic and Transpersonal Psychology, and subsequently founded the nonprofit Human Potential Center in Austin, Texas in 19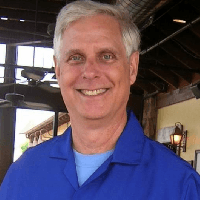 86. He is currently Executive Director of the Center, where he leads workshops and works with clients to help them embrace and live into the person they really want to be. He has presented thousands of workshops nationally and internationally, and recently presented a plenary workshop on self-esteem at the annual International Human Learning Resources Network conference, which is based on Virginia Satir's work.